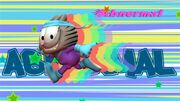 Abnermal is the superhero version of Nermal. Unlike the rest of the team, Abnermal quickly takes to his superpowers and is overjoyed to be a hero. Abnermal's abilities include his Pester Power, the ability to create force fields, and a body temperature of absolute zero that allows him to freeze anything he touches and project ice blasts. In the movie, he is given super speed.
Ad blocker interference detected!
Wikia is a free-to-use site that makes money from advertising. We have a modified experience for viewers using ad blockers

Wikia is not accessible if you've made further modifications. Remove the custom ad blocker rule(s) and the page will load as expected.